The MyShow experience doesn't end when the tradeshow concludes. We take the showcase global, transporting all displayed samples to several TradeAider showrooms scattered across the globe. For an extended period of three months, these showrooms serve as hubs for discovery, allowing you to explore, examine, and evaluate samples at your own pace.
TradeAider Permanent Showrooms
The Hamburg Showroom
Sourcing in a more efficient, convenient, and cost-effective manner!
TradeAider Permanent Showrooms aim to streamline sourcing, making it more efficient, convenient, and cost-effective. We've opened our first showroom in ModeCentrum Hamburg, Germany, the fashion hub of Hamburg. Additional showrooms in locations like Los Angeles (USA) and London (UK) are on the horizon.
The Hamburg Showroom in Germany showcases over 2,000 samples from 500+ premium suppliers, spanning all product categories to meet your sourcing needs.
All samples in our showroom are verified, and factories in our database undergo thorough audits. Our professional teams in Germany and China are at your disposal to facilitate successful business cooperation with factories.
What we offer:
1. Strong Supply Chain: Over 2,000 samples from 500+ premium suppliers, all recommended for FREE!
2. High Credibility: Each sample is equipped with a specific QR code for detailed product information and manufacturer audit reports.
3. Open All Year: Access a wide range of products from premium suppliers in the TradeAider showroom at any time.
4. Transparency: Direct communication between buyers and suppliers.
5. Boost Your Brand: We support your business growth by purchasing stylish and quality products and selling them in the extensive markets of the diverse production countries, enhancing your sales and brand awareness.
6. Germany-based Professional Team: Our consultants are available to support your sourcing needs and liaise with factories.
7. Strong Headquarters Support: Our 20,000+ apparel & textile Quality Controllers around the world, along with highly experienced merchandisers, ensure product quality.
8. Latest Trends: Renewed samples and manufacturers every season, showcasing the latest trends.
9. Various Activities: We host at least 8 Fashion Events yearly, featuring purchasing managers, design directors, and apparel & textiles industry celebrities.
10. Special Gifts: As a token of our appreciation, we offer special gifts, plus exclusive benefits like 1/2 complimentary man-days of our MyQC services.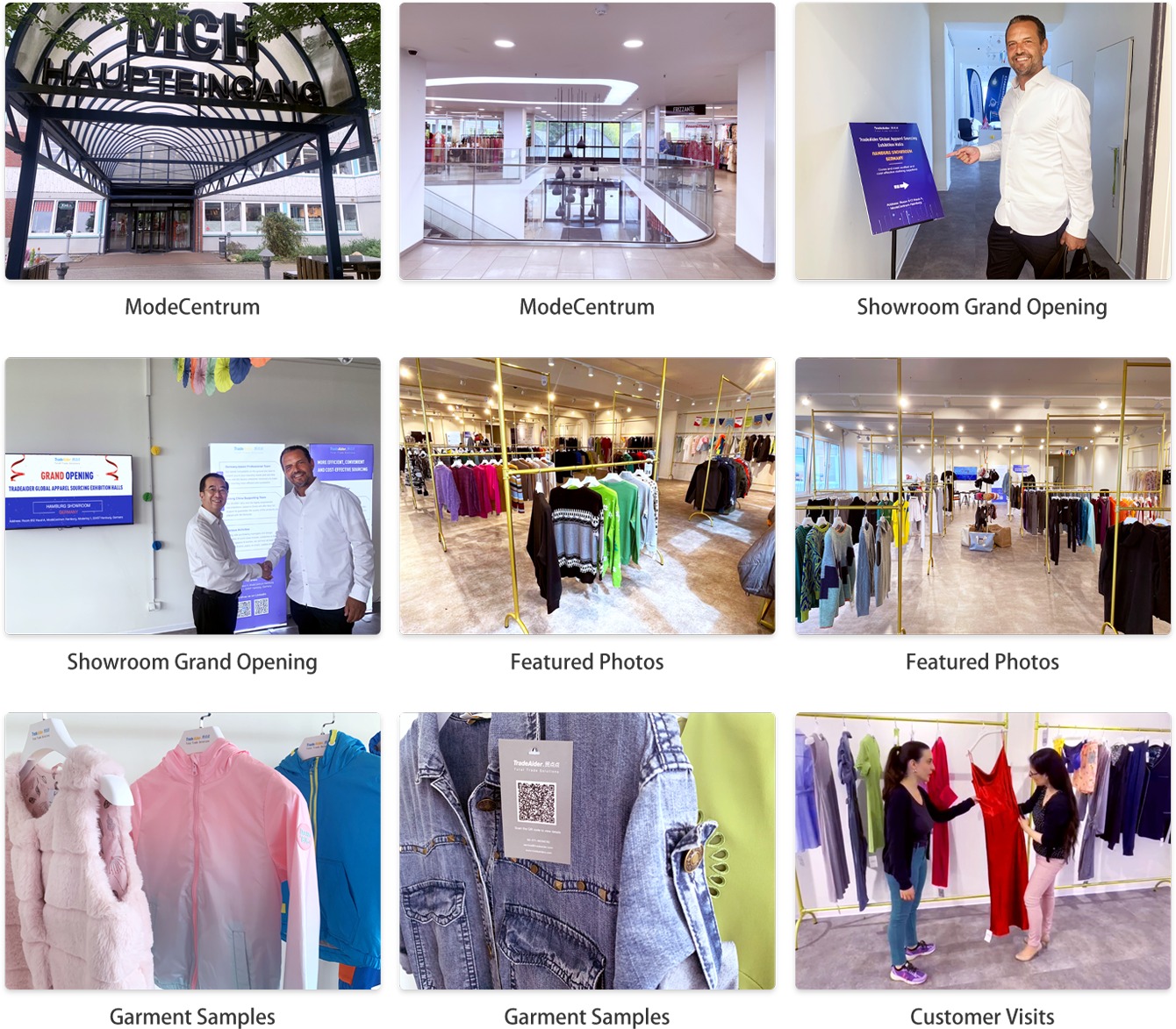 ModeCentrum Hamburg:
ModeCentrum Hamburg has been a fashionable gathering place in northern Germany for 40 years, featuring more than 400 brands and 1,000 collections, covering a total area of 77,500 square meters. With over 60,000 annual trade visitors, it also serves as a gateway to Scandinavia and Eastern Europe, standing as a primary fashion center in Germany since its founding in 1974.