On the afternoon of June 27th, the 2022 "Good Faith Prospering Commerce Publicity Month" event & China Services Trade Standardization Forum - Business Services Standardization Thematic Forum hosted by CCPIT were successfully held online. Ren Guiying, CPC branch secretary of CCPIT Business Industry Committee, and Ma Jiafeng, Minister of Trade and Investment Promotion Department of CCPIT Shandong Provincial Committee, attended and addressed the forum. Yao Xin, Secretary-General of CCPIT Business Industry Committee and China Association for Standardization Trade in Services Branch, Wang Fang, Deputy Secretary-General of CCPIT and China International Chamber of Commerce Mediation Center, and Justin Chen, Founder and Chairman of TradeAider, were invited to attend the forum and delivered keynote speeches.
As one of the thematic series of the China Services Trade Standardization Forum, this forum focuses on business service standardization, with diversified, multi-level, and multi-faceted discussions and exchanges in various business service fields such as RCEP service trade, commercial regulation, excellent service, cross-border e-commerce, and QC specialists attending overseas trade fairs on behalf of manufacturers.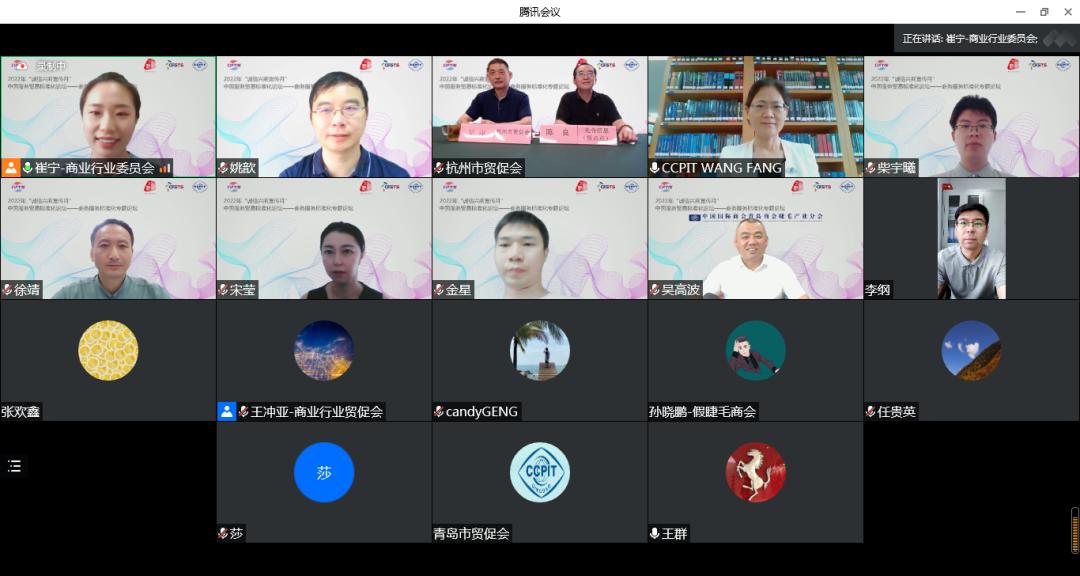 Justin Chen, the founder and chairman of TradeAider and the vice chairman of Hangzhou Chamber of International Commerce, was invited to delivery a keynote speech and share TradeAider's "Overseas QC Specialists Exhibiting Service" with guests, i.e. overseas QC specialists attending exhibitions on behalf of domestic manufacturers. He explained how this innovative service supports and guarantees the participation of foreign trade enterprises in overseas exhibitions, increasing orders, reducing costs, and improving efficiency and quality.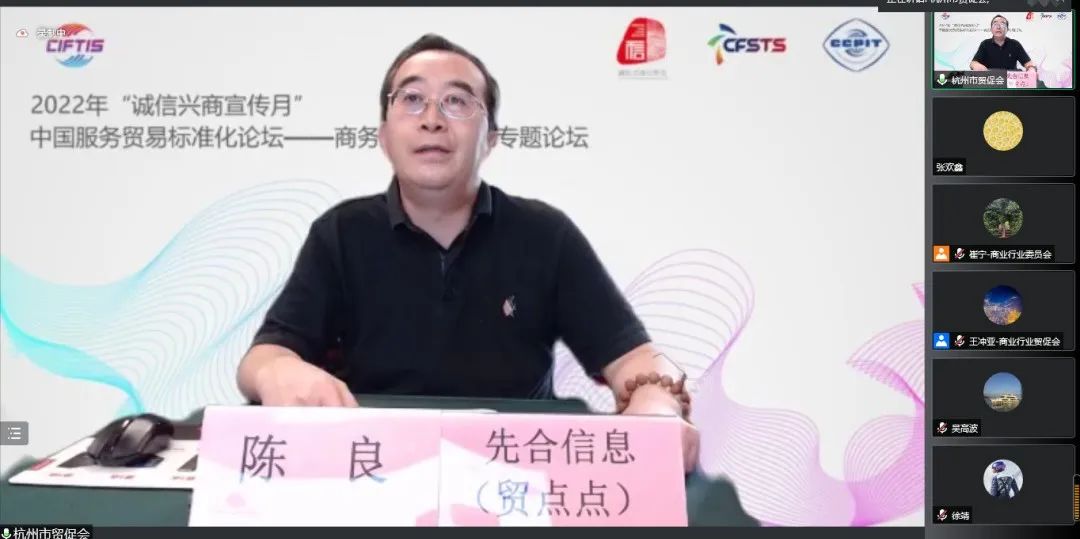 "Since the beginning of this year, with the resumption of offline exhibitions and the increase in international procurement demand, we have felt the urgent need for foreign trade enterprises to participate in overseas exhibitions and expand overseas markets." Justin Chen said. In May 2022, the General Office of the State Council issued a document entitled Opinions on Promoting Foreign Trade to Maintain Stability and Improve Quality (No. 18 of the State Office [2022]), proposing to support small and medium-sized enterprises to participate in overseas exhibitions.
In order to implement the spirit of the document and effectively help foreign trade enterprises solve overseas exhibition problems, TradeAider, with its strong platform strength and over ten years of experience in innovative exploration and practice, has created the first service mode of "Overseas QC Specialists Exhibiting Service". With professional QCs as the link and digital platforms as the support, TradeAider combines online and offline business modes, comprehensively helping secure foreign trade enterprises in booths, orders, transactions, and quality.
High-quality conference and exhibition service is an important guarantee for domestic manufacturers to achieve overseas market access. Based on the professional, standardized, digitalized, team-oriented and localized overseas QC team, mature platform and management experience, TradeAider's "Overseas QC Specialists Exhibiting Service" effectively solves the problems of traditional overseas exhibition teams, which are mainly made up of international students, tour guides and translators, lacking professional knowledge and business skills. Their pre-show training was inefficient and they lack professionalism in product promotion. This traditional approach is characterized by high cost, weak digitalization and poor standardization. TradeAider's creative mode helps foreign trade enterprises realize overseas exhibitions at lower cost and with higher efficiency, ensures communication and trading between buyers and sellers, and enables foreign trade enterprises to take orders and expand their markets more steadily and further.
Justin Chen pointed out that standardization is the basis of business services, which plays an important role in regulating the development of the industry, promoting the quality and efficiency of the industry, and facilitating the flow of trade. TradeAider's "Overseas QC Specialists Exhibiting Service" has explored and formed a standardized service process and service specification. We also hope that under the guidance of the CCPIT Business Industry Committee, we can jointly conduct in-depth practice and exploration in developing the standards of "Overseas QC Specialists Exhibiting Service" to build local, industrial, national and even international standards.
At present, TradeAider has taken the lead in the United States and Germany to launch the pilot project of "Overseas QC Specialists Exhibiting Service" in ASD (consumer merchandise in Las Vegas), NYIGF (New York International Gift Fair), Automechanika Frankfurt and IHF (International Hardware Fair) in Germany. In the future, TradeAider will focus on key countries and industries. The "Overseas QC Specialists Exhibiting Service" will go from pilot to global, benefit more foreign trade industries and enterprises, and play a supporting and leading role in enhancing international competitiveness and the high-quality development of China's foreign trade industry.
In addition, TradeAider is also actively exploring the new model of the overseas exhibition for Chinese foreign trade enterprises and has launched the "Supplier Cooperation Program (Exhibition)" in the context of the uncertainty of global epidemic and the normalization of epidemic control. The program will comprehensively improve the enthusiasm, feasibility, economy and order effectiveness of foreign trade enterprises to participate in overseas exhibitions, promote the realization of export stability and improve quality, and help stabilize the economy, industrial chain and supply chain. The digital-empowered "Exhibition in Exhibition" service launched by TradeAider in cooperation with the organizer of the Magic Show in Las Vegas is also in the process of exhibitor inviting and has reached cooperation with many enterprises.