We know you are a successful entrepreneur, the owner of The Clis Group which consists of several trading companies and factories, and you have been very successful with the traditional trading and manufacturing business over the past 25 years. Why did you set up TradeAider in the year of 2010 while your existing business was successful?
Good question. Although my traditional trading and manufacturing business has been successful, I did encounter the common problems which everybody faces: quality control, order control, high cost, asymmetry of information, lack of qualified factories, lack of suitable buyers, and lack of trust between buyers and suppliers...
So what shall we do? Complaining doesn't solve problems. There must be somebody who tries to find some solutions to solve these common problems to benefit both buyers and suppliers. OK, I then decided to be that person.
So how can TradeAider solve these problems? Nobody thinks this is easy work.
Absolutely right. Innovation is not at all easy. However, only through a revolutionary business model can we have a chance to solve all these problems and make global trade a happy, smooth, and profitable business for both buyers and suppliers.
Firstly, we need to change the role. we need to become an independent third-party service provider, in order for both the buyers and suppliers to trust us and accept us.
Secondly, everything must be completely transparent, efficient, and professional.
Thirdly, costs for both buyers and suppliers must be greatly reduced, making global trade a profitable business for everybody.
Fourthly, both buyers and factories must feel comfortable and convenient, chances of business must be maximized, risks must be minimized or eliminated, safety must be ensured, and quality must be guaranteed.
Only a business model meeting the above requirements can it be successful in achieving the goal. I am very pleased to inform you that, having made great efforts since 2010, I think TradeAider is getting closer and closer to this goal.
Sounds very inspiring. What solutions do TradeAider offer?
We currently provide six major services, which are: WeGuarantee. WeSource, Sell-in-China, MyQC, NoFake, and WeFinance. These solutions are highly welcomed by the world trade industry. Last year. TradeAider won the title of "China's Top 10 Most Influential Brands for 2019". This shows that society approves of us.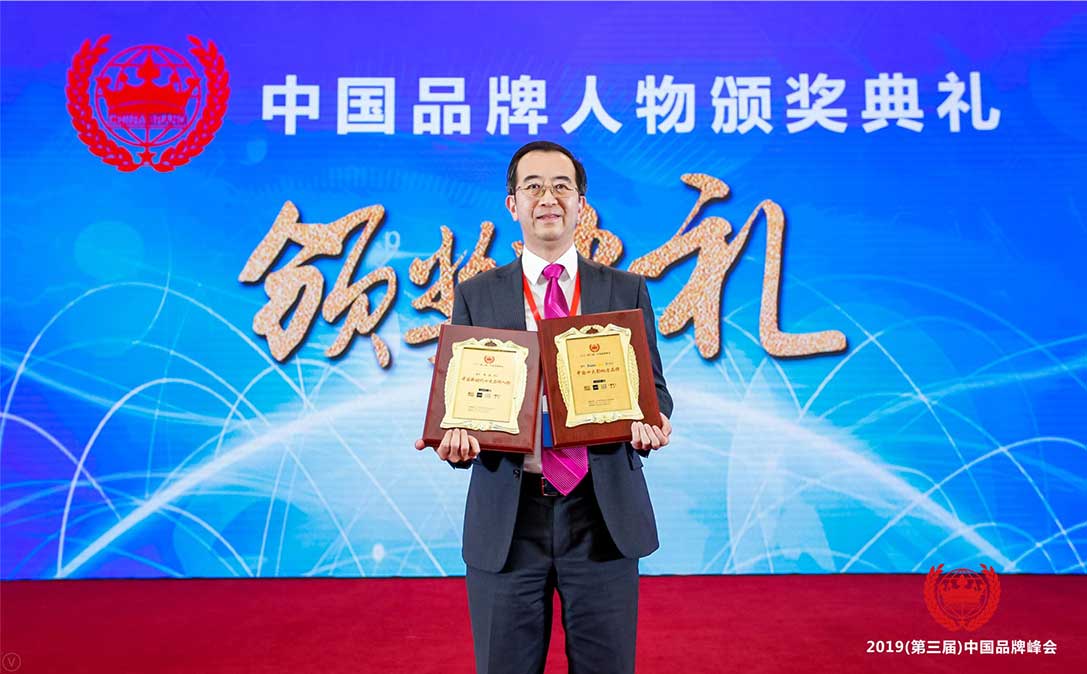 In May 2019. TradeAider had the honor to win the title of "China's Top 10 Most Influential Brands for 2019" by China Business Herald and CCTV Station. Among the list are Moutai Group, China Mobile, and Ping An.
Why are these solutions cost-effective and problem-solving?
Well, these solutions are organically connected and supported by each other in the entire supply chain from sourcing production, quality guarantees to even retail. Take Sell-in-China as an example. There are so many small and medium brands that have been hoping to enter the vast China market. However due to the limited resource and experience, lack of qualified team and retail facilities, high cost and risk, etc, they have not yet entered China market, which is a shame. In the meantime, there are a lot of brands that are already produced in China, which may have already used TradeAider's WeGuarantee Service, WeSource Service, MyQC Service, NoFake Service, and WeFinance Service. Now with the help of TradeAider's creative Sell-in-China Program, these brands can have chance to fulfill their long-standing dream of selling their products in China easily, safely and profitably, and achieve an increased sale, margin, and influence of brand value. Wouldnt it be a wonderful thing?
How does Sell-in-China Program work? How can TradeAider be involved in the retail business?
Yes, it is a retail business. Since TradeAider has strong retail platform and selling networks. Now that a lot of brands whose products are already produced in China, in the meantime these brands have been hoping to enter China market so much, why not take the chance to ask the factories to produce some more quantities which have been bought and will be sold by TradeAider? In this way, there is no need for these brands to invest a single cent, employ a single person, or sell a single piece of the product by themselves, As all the hard work will be done by TradeAider and what these brands need to do is just to sign an agreement with TradeAider authorizing us the right of the retail agent in China. TradeAider will then make full payments to brand owners for the products selected and purchased. Whether the purchased products will be sold out or not is at the risk of TradeAider, not the brands. Therefore it is indeed zero cost and zero risk for the brands.
This program also applies to the products produced outside China. In order to meet the increasing demand for the high-quality fashion products of foreign brands in the fast growing China domestic market, China now encourages imports, which is really very good chance for all the foreign fashion brands to enter the huge China market.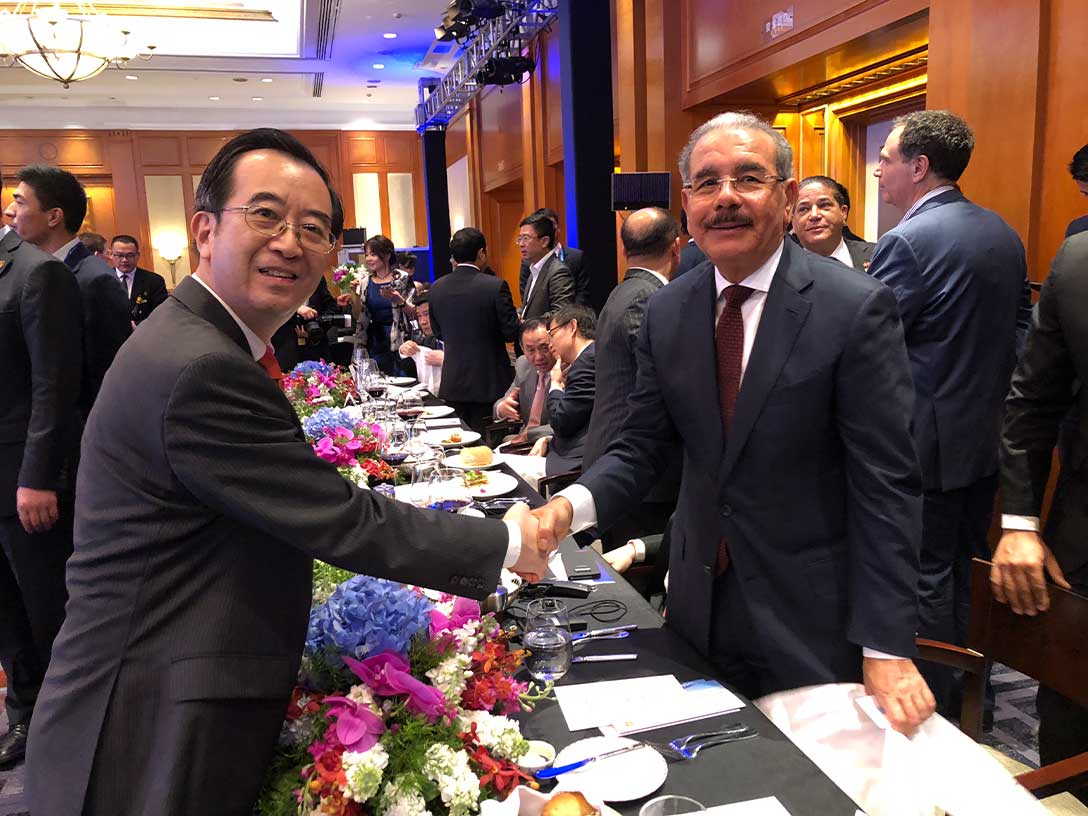 In Nov 2018, Justin Chen was invited to attend the dinner with Danilo Medina, President of the Dominican Republic, during the First China International Import Expo (CIIE).
This seems exciting. If I were the brand owner, I may consider trying it.
Yes, please.
Tell me more about WeGuarantee. What's the difference between TradeAider's WeGuarantee Service and the traditional trade agents?
Well, the first major difference is the cost. When trading through the agents. buyers are not buying directly from the factories .but from the agents. The cost they pay to the agents is 15% to 20 on top of the factory cost price. Whereas when it comes to TradeAider's WeGuarantee Service, buyers are doing business directly with the factories. The cost of 15 % to 20 % paid to the agents is saved. And the service charge paid to TradeAider to help control the order and GUARANTEE the quality of the products produced by the factories is just 3 % to 5% of the factories cost price. The big cost saved will become the additional net margin for the buyers.
The second major difference is the way of order control and quality control. The fast-changing world necessitates new business models and new measures to adapt to the constantly changing needs. Especially when we are now in a digital world. So TradeAider has combined the traditional trade with internet technology, including Al, cloud computing, and blockchain, making the complicated sourcing and difficult trading as simple and easy as possible.
Take the WeGuarantee Worktable, a smart order control and quality control system to support WeGuarantee Service, as an example, it works like this:
It is a specially developed free mobile system to effectively support WeGuarantee Service, where all the order details are displayed and summarized by TradeAider merchandisers. The production plan is made and confirmed jointly by the manufacturers, the TradeAider merchandisers, and finally the buyers.
All the actual production situations of the factories are tracked, inspected, and reported by TradeAider Qcs onsite the factories and updated daily on the TradeAider App by TradeAider merchandisers, and the samples in the different stages are displayed in 3D style by the fitting models for the buyers to review, comment and approve online the App, saving huge time of the different samples being sent by courier backward and forwards between buyers and the factories.
The entire production process can easily be monitored by the buyers through just a quick glance at the App and confirmed by a single click on the App, wherever and whenever. This is especially useful at this post-pandemic time when everybody's movements are restricted.
The buyers, the manufacturers, and the TradeAider merchandisers work together on the App in an extremely effective, precise, smart, and transparent way, ensuring that the orders are being produced soundly and no quality problem will be occurring.
With the help of the TradeAider App, all the work the buyers' merchandisers, designers, and QAs need to do every day is just to follow the simple and precise instructions given on the Work Table of the App, putting Yes or No to the requests listed by TradeAider's merchandisers, and all the follow-up works will be done jointly by TradeAider merchandisers, QCs and the manufacturers. Therefore, the workload of the buyers is greatly reduced and the overhead cost is saved a lot.
Therefore, from now on, it will not be a dream for a buyer that a good trade business can easily be done while this buyer is playing golf (laugh).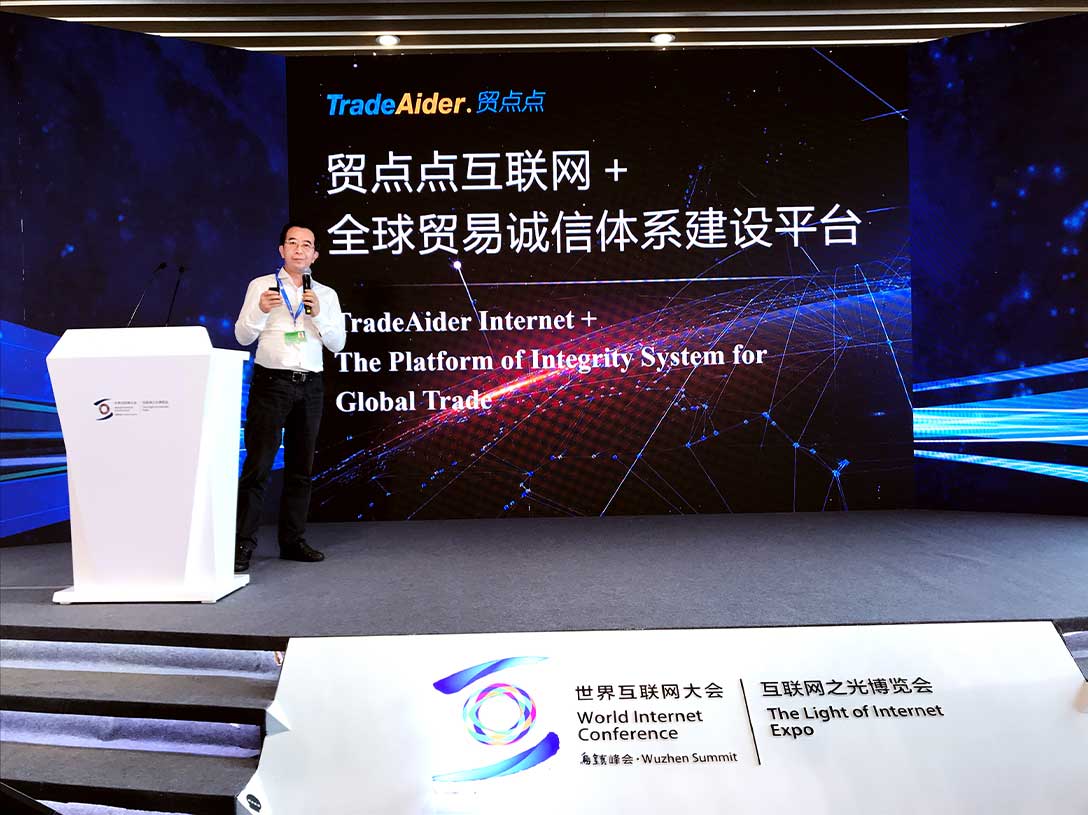 In October 2019, Justin Chen was invited by World Internet Conference to make a presentation at the forum of the 6th World Internet Conference in Wuzhen, China.
This is so impressive. Now I can understand more about the slogan of TradeAider: Your Smart China Office. Actually, TradeAider is here in China doing everything needed by the overseas buyers in a very creative and cost-effective way. TradeAider is just like the buyers' china office, however without the buyers paying a single cent of the overhead cost. Buyers just pay a very small amount of service charge for any services they use and provided by TradeAider, which are independent, professional, efficient, transparent, highly digital, convenient, and especially guaranteeing, like the WeGuarantee Service. Am I understanding, right?
Yes, you are absolutely right.
However, I now have one concern. The advantages of TradeAider are so obvious, so how can the traditional trade agents survive? Do they dislike or hate TradeAider?
This is a soul question. I think in this fast-changing internet world, nobody's role can be sticked to. Everybody needs to find the best role they can play in this hanging world. Traditionally, trade agents have played a very important role in global trade due to their good resources in both the buyers and suppliers, the good service and quality control level. However, in this internet world, both the buyers and suppliers can be easier to be accessible to each other. And due to the big pressure of the price competition in the market more and more buyers and suppliers prefer trading directly with each other in order to reduce costs and be more competitive in the market. This is the tendency that nobody can change or avoid. Therefore the traditional agents need to adjust their role in order to adapt to the tendency. I would like to think and suggest that the best role the traditional trade agents can play now is to make a full display of their talents, like the good communication capability with the buyers, the good relationship with the factories, to work more closely with the factories and give them more supports. They can even become share partners with the factories. By doing so the management level of the factories will be greatly increased, and more orders will be placed with the partner factories. This is once again win-win. I am sure as long as the traditional trade agents can develop in this direction, they will still have a good and even better business life.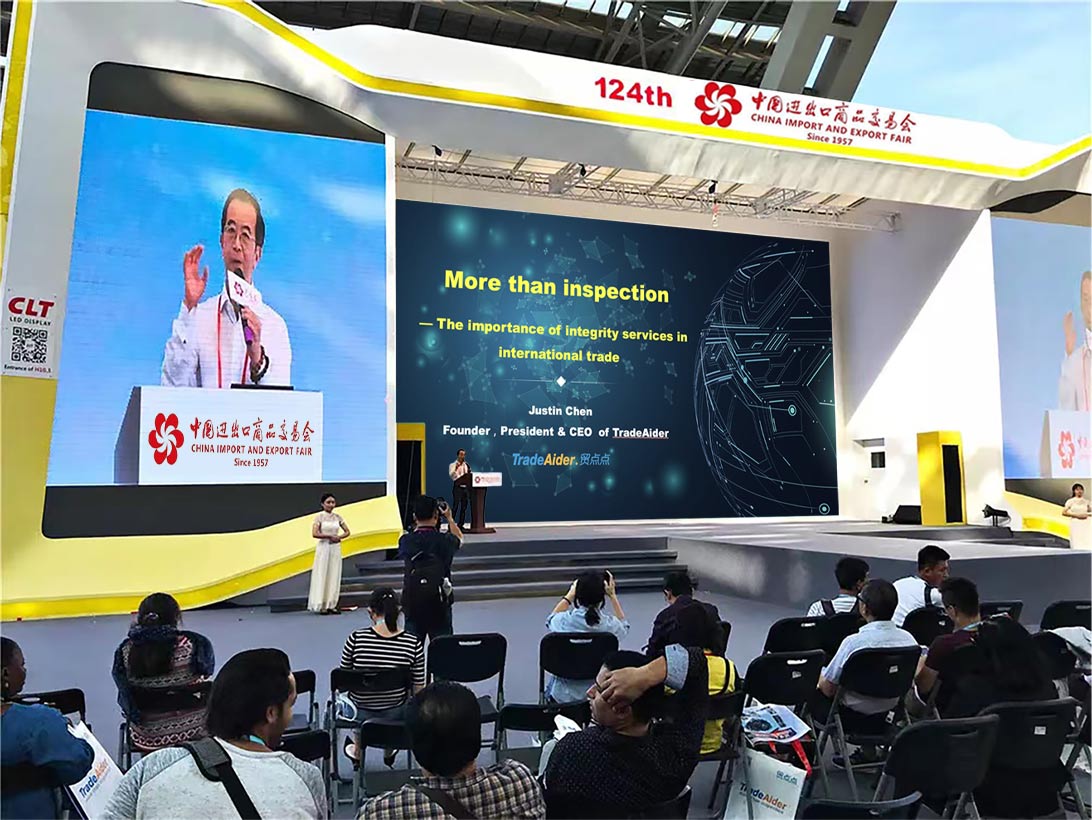 In October 2018, Justin Chen was invited by Canton Fair to make a presentation at the 124th Canton Fair Forum.
Talking about the independent services, what's the difference between TradeAider's MyQC Service with the traditional third parties, like SGS, ITS, BV, and TUV? Do you really have a team of 70,000 plus QCs in China? How can you afford the cost of this huge team?
Very good questions. Let me answer your first question first. The Big Fours ( SGS, ITS, BV, and TUV ) are very honorable third-party institutes that gained their reputation in the field of lab testing and certification in a history of around 145 years. I respect them very much. TradeAider is quite different from them. Firstly, we don't do lab testing and certification, so we are not their direct competitors. Secondly, we do provide quality inspection service through our MyQC Service. However, our MyQC Service is more involved in problem-solving during the production process. Whereas the Big Fours' inspection service is more involved in the final judgment of the results. Some clients prefer problem-solving services, and some clients like the final judgment of the results service. It's an open market for the clients to choose from the services which best fit them.
About your second question. Yes, we do have a professional QC team of over 70,000 personnel, which is still increasing. It's a business model of sharing economy. Many people say the MyQC service of TradeAider is like Uber in the quality control field. I agree with this saying. For four consecutive years from 2019 to 2022, TradeAider was named " Model Case of Sharing Economy in China by the State Information Center.
TradeAider's professional QCs have to pass strict exams including written and oral tests before they can be awarded qualifications to be accepted by TradeAider. They are not employed by TradeAider so we do not pay them salaries. They are actually partners of TradeAider to jointly provide satisfactory service to the clients. They are spread over the 2,000cities and counties throughout China. So it's very convenient and efficient for them to accept the quality control tasks and carry them out in the factories just nearby where they live. Therefore they can easily find the problems and solve them onsite the factories, which is so helpful for the quality control.
In one word, TradeAider is not doing the same thing as the Big Fours. Due to my profound background in global trade and manufacturing for around 30 years, TradeAider is trade-oriented, not testing and certification oriented. We just want to do something to help both the buyers and suppliers in the trade industry to do better easier, safer, and more profitable business. That's why we not only provide Sell-in-China Program, WeGuarantee Service, and MyQC Service, but also FREE WeSource Service to help buyers find better manufacturers. NoFake Service to help brand owners to protect their IPR (intellectual property right), and WeFinance Service to help both buyers and suppliers with their cash flow. Hence our company name TradeAider.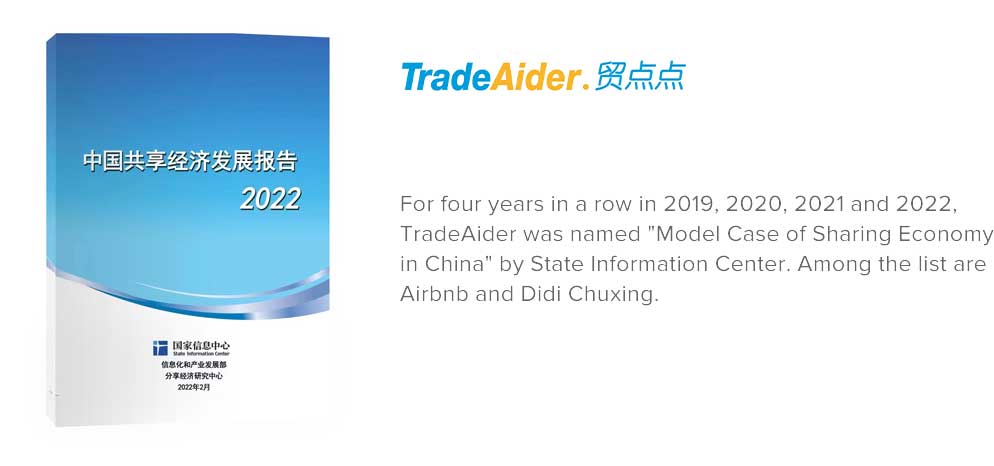 Thank you for introducing so precisely the creative business model of TradeAider. Can you tell me, in your mind, what's the best business model?
Well, in my mind, to be the best business model, in addition to innovation, the most important thing is altruism. This means you must do your best to help other people first, think of other people's needs, help them to survive, and help them to be more successful by reducing costs and increasing sales and margin. You should never think of yourself to make a lot of money, especially at the very beginning. Otherwise, you will never succeed. I set up TradeAider in the year of 2010, I have invested tens of millions of US dollars over the past 12 years, still investing, still not making money. However, I have a deep believing as long as the buyers and suppliers have really benefited from the altruistic services of TradeAider, TradeAider will ultimately be growing well, together with the buyers and suppliers, which is a win-win-win, best business model.
I am so pleased that after 10 years of exploration and practice, the innovational business model of TradeAider specially designed to help both buyers and suppliers is now mature to benefit more people. I do hope more and more buyers and suppliers realize the urgency and importance of switching to the new ways and trying the new business model, in order to continue doing business in an easier, safer, happier, and more profitable way. I do hope more and more buyers and suppliers will get to know TradeAider. try us, like us, and benefit from us.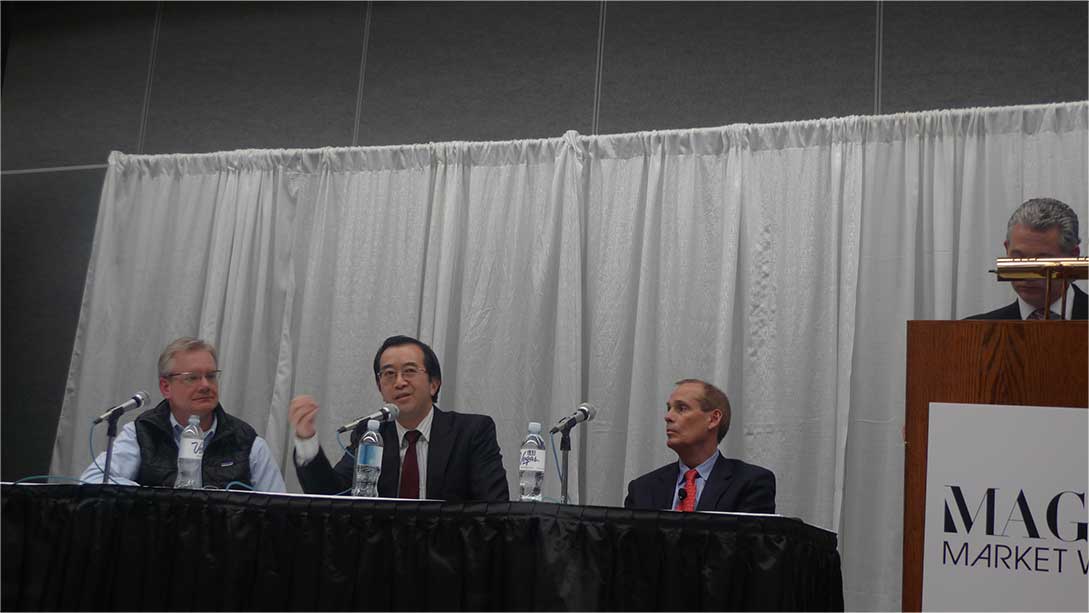 In February 2013, as one of the first entrepreneurs from mainland China, Justin Chen made a presentation at the Magic Show Forum in Las Vegas, USA.
What do you think about the pandemic? How can we cope with this difficult situation?
The pandemic has made us suffer a lot. It will continue bringing trouble to human beings and our business. Travels and on-site visits will still be difficult and limited for the long run. Fortunately, TradeAider's solutions can just help solve all the problems under the difficult pandemic situation. As we are Your Smart China Office. The advantages of TradeAider were brought into full play. In the face of difficulties, complaining doesn't help at all. Only innovation can solve the problem. I have always been an optimist and have been building new business models over the past 10 years. In order to overcome the difficult situation, both buyers and suppliers need to immediately start doing something, try new ways of doing business benefit from the new business models, and do their best to survive and grow even better. In Chinese, the word crisis is both danger and opportunity. In China we also have a saying: living people cant be suffocated with urine. Which solutions are always more than difficulties? Whoever acts faster and wiser will stand out from the difficulties and grasp more chances of success.
I quite agree with what Roy F Baumeister and John Tierney say: pessimists are always right, and optimists can have a chance to be successful.
Let's do our best together toward a brighter future.
We discussed a lot about the business model. Can you briefly introduce yourself, and your background education? What's your vision and mission?
Well, I was born in Fujian Province in Nov 1962. I entered university in Sep 1978, at the age of 15. I have a bachelor's degree from Zhejiang University and a master's degree from Cheung Kong Graduate School of Business. In 1997, I set up The Clis Group which consists of several apparels and textile trading companies and factories. I then set up TradeAider in 2010. My business life is simple and persistent. I enjoy working. I especially enjoy the sense of achievement when TradeAider's solutions can help more and more business people both at home and abroad. My vision and mission are to help more people in the global trading world through our constantly innovated solutions.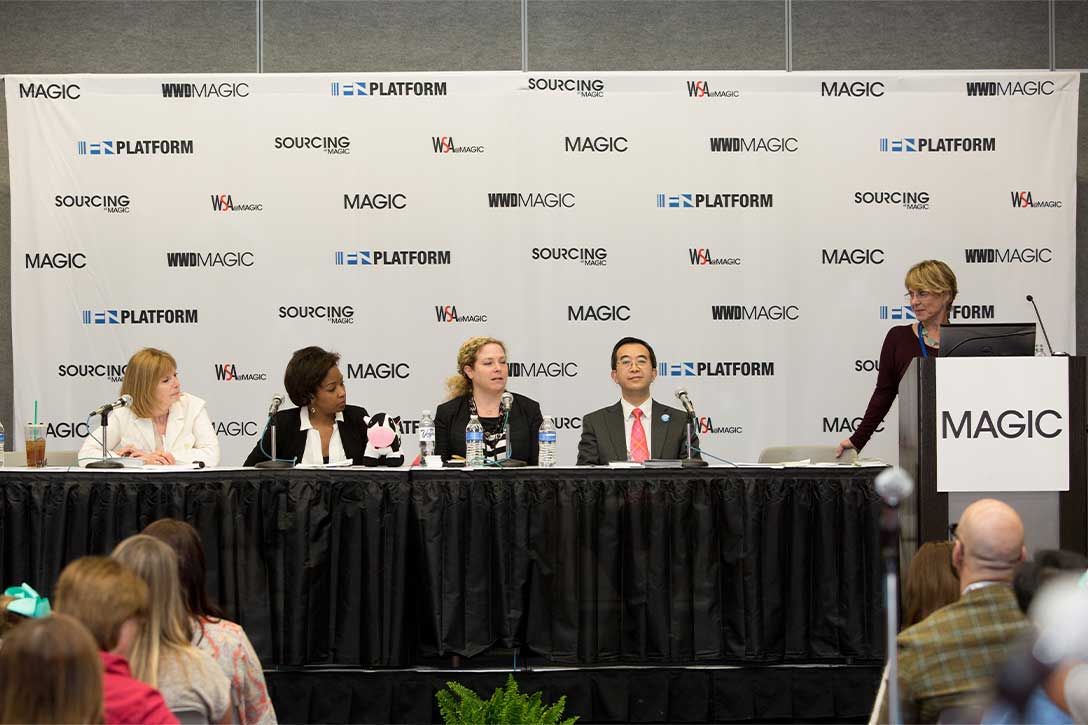 In February 2015, Justin Chen was among the panelists at the Magic Show Forum in Las Vegas, USA.
Sounds like you are really an optimist, you like innovation, you like new business models, you like to help people and enjoy the sense of accomplishment... However, do you really have no worries or concerns? As everybody does.
I do have. One of the biggest concerns is the lack of trust with new things and the lack of willingness to try new things. I sincerely hope that after more and more people have enjoyed the benefit of TradeAider's innovative solutions, the trust and willingness with new things will be steadily increased.
Look at this photo on the wall. What are they doing? Any specific person you want to introduce to us?
It's the launching ceremony of one of our early websites. The gentleman on my right-hand side is Sun Ruizhe, currently President of China National Textile and Apparel Council (CNTAC) and Chairman of the International Textile Manufacturers Federation (ITMF).
He is a good leader and friend of mine and has been understanding, encouraging, and supporting the vision and mission of me and TradeAider over the past 10 years. He says that TradeAider is a very good platform with the innovative business model, and more and more people in the industry will be benefiting from this platform.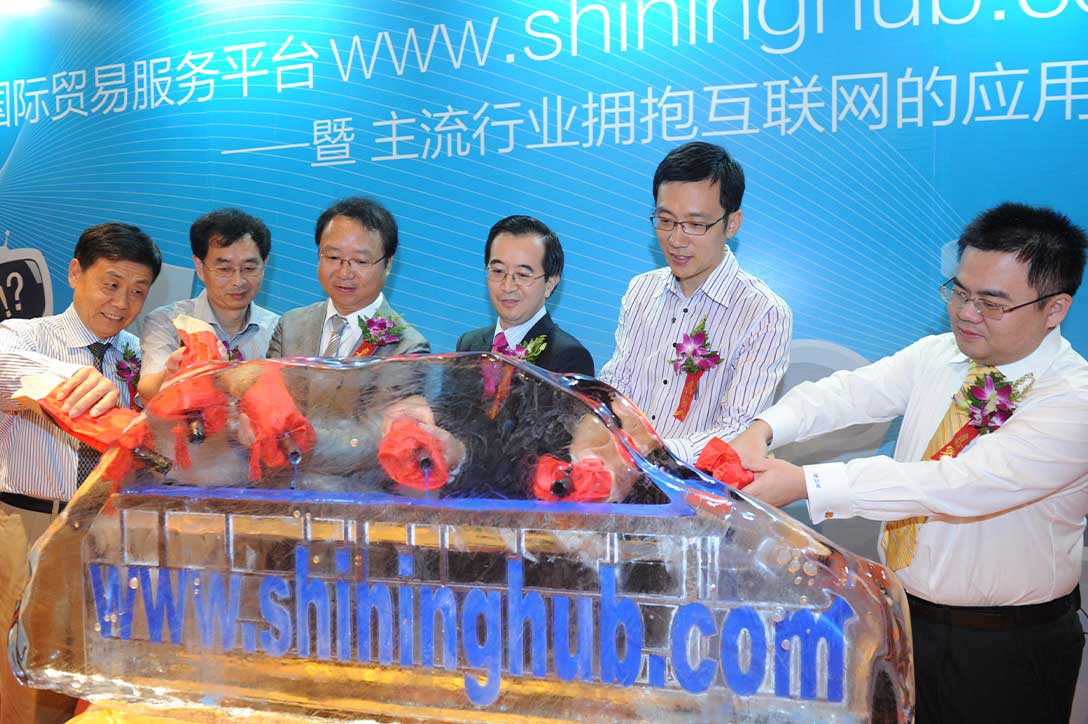 In August 2011, Sun Ruizhe, on the right-hand side of Justin Chen, currently President of China National Textile and Apparel Council (CNTAC) and Chairman of International Textile Manufacturers Federation (ITMF), attended the launching ceremony of one of TradeAider's websites.
I noted that TradeAider is the strategic alliance partner of China's six national import-export chambers of commerce. Tell me a bit about it.
Well, because TradeAider can bring a big benefit to both buyers and suppliers through the increasement of the direct business chances, the reduction of the cost, the guarantee of the quality, and the increase of sales and margin, all of China's six national import & export chambers of commerce have signed the strategic alliance partnership agreements with TradeAider. This is very unusual because as far as we know we are the only company which has the strategic alliance partnership with all the China's six national import & export chambers of commerce. We feel very honored with it and will do our best to provide good services to them. TradeAider's solutions will ultimately benefit their members both at home and abroad.
Who exactly they are?
Yes, they are:
China Chamber of Commerce for Import and Export of Textile and Apparel;
China Chamber of Commerce for Import and Export of Light Industrial Products and Arts-crafts;
China Chamber of Commerce for Import Export of Medicines Health Product;
China Chamber of Commerce of Metals, Minerals & Chemicals Importers & Exporters;
China Chamber of Commerce for Import and Export of Machinery and Electronic Products;
China Chamber of Commerce for Import and Export of Foodstuffs, Native Produce And Animal By-products.