In order to carry out the spirit of the document "Opinions on Promoting Foreign Trade to Maintain Stability and Improve Quality" (No. 18 of the State Office [2022]) of the State Council, TradeAider has built the first "Manufacturers Representatives Exhibiting Service" in China based on 12 years of practical experience and the unique advantages of big data to support and guarantee trade enterprises in overseas exhibitions during the pandemic.
On June 16, invited by the Hangzhou Municipal Bureau of Commerce, Justin Chen, the founder and chairman of TradeAider, participated in Hangzhou Foreign Trade Business Training Conference, and gave a keynote speech entitled "Manufacturers Representatives Exhibiting on Behalf of Domestic Manufactures Contributes to Stabilizing Foreign Trade" to the leaders of all districts, counties (cities) and foreign trade enterprises attending the conference online.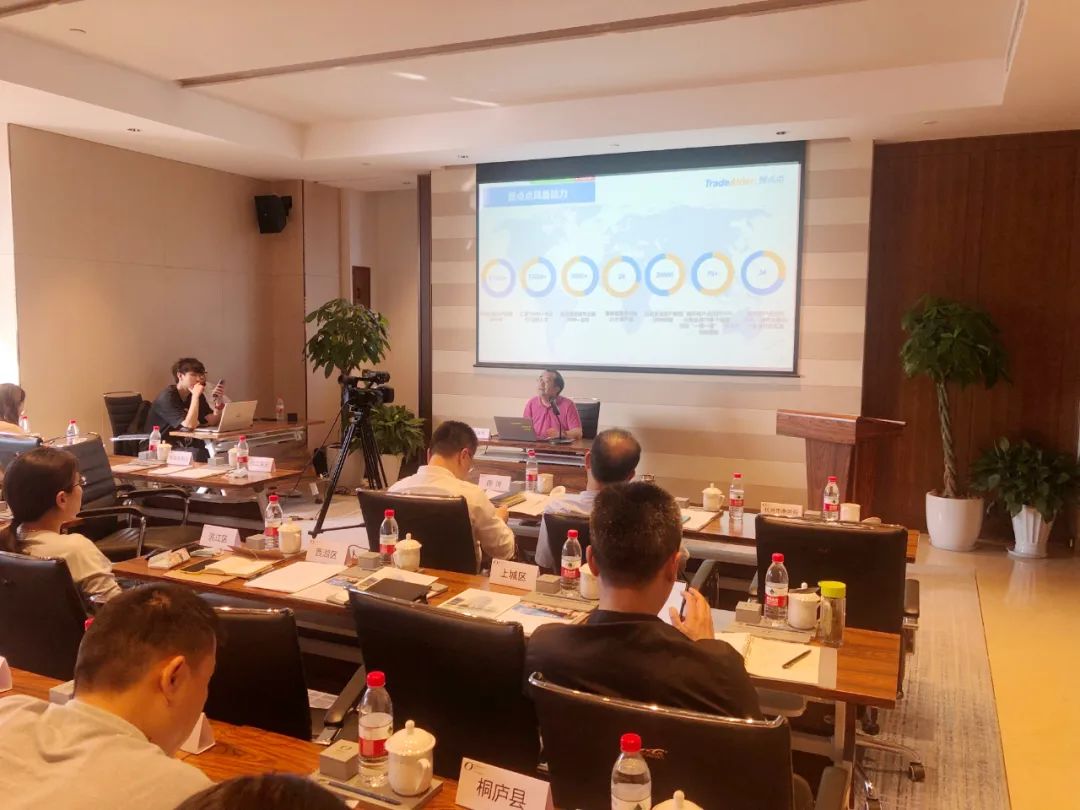 Since the beginning of this year, with the resumption of offline exhibition and the increase of international procurement demand, China's foreign trade enterprises urgently need to enter overseas markets. However, in the context of epidemic control, cross-border travel has been restricted. It is difficult for domestic foreign trade enterprises to participate in overseas exhibitions. Exhibiting on behalf of these foreign trade enterprises has become an important and effective way to participate in overseas exhibitions.
However, there are some problems prevailing in the exhibition agency market. The agents are mainly international students, tour guides and interpreters, who lack professional knowledge and operational skills. Their pre-show training was inefficient and they lack professionalism in product promotion. This traditional approach is characterized by high costs, weak digitization and poor standardization.
Based on the professional, standardized, digitized, team-oriented and localized overseas sales team, mature platform and management experience, TradeAider's "Manufacturers Representatives Exhibiting Service" effectively solves the problems such as difficulties in overseas exhibiting and obstacles in entering overseas markets. TradeAider can provide a low-cost and high-efficiency guarantee service for the communication and transaction between buyers and sellers, which can achieve the effect of enterprise exhibitors and secure foreign trade enterprises in booths, orders, transactions, and quality.
TradeAider's "Manufacturers Representatives Exhibiting Service" has five advantages. Firstly, professional representatives with rich experience in introducing the products and functions to buyers. The second is standardization. A standardized service process and management mode can ensure the service, improve efficiency and facilitate orders following the prescribed process. The third is digitization. Through digital technology, TradeAider can accurately select suitable representatives and invite buyers. Exhibitors can supervise and guide the whole process in real-time online to achieve the full traceability of exhibits. The fourth is team-oriented. TradeAider, as a platform, provides exhibitors with third-party assurance. Our trade integrity value-added service strengthens the trust of buyers and sellers and promotes cooperation. The overseas sales team, overseas exhibition team and domestic service team work together to improve service efficiency and quality. The fifth is localization. Through a sharing mode, buyers click a finger and QC will arrive at the pointed location. The platform will match professional quality inspectors nearby, saving staff and travel costs.
After market research and planning, TradeAider will lead a pilot project of "Manufacturers Representatives Exhibiting Service" in ASD (consumer merchandise in Las Vegas, August 21 - August 24, 2022), NYIGF (New York International Gift Fair, August 14-August 17, 2022), Automechanika Frankfurt (auto parts fair, September 13 - September 17, 2022) and IHF (International Hardware Fair, September 25 - September 28, 2022) in Cologne, Germany. TradeAider gives active support to the exhibitors in all aspects, including price. After the exhibition, we will summarize and lay a solid foundation and accumulate rich experience for the full promotion of TradeAider's exhibiting service as soon as possible.
Next, TradeAider will undertake a comprehensive study of the world-famous exhibitions and the needs of domestic foreign trade enterprises. We will focus on key countries, key industries, and key exhibitions to support enterprises to achieve our social responsibility.
TradeAider is actively working with the organizer of the Magic Show in Las Vegas and preparing for the coming show on August 7- August 10, 2022. TradeAider will bring many Chinese high-quality suppliers of the clothing and textile industry. Global buyers are welcome to visit and talk.