While the significance of digitization is universally acknowledged, translating this understanding into practical implementation presents notable challenges. The task involves integrating an innovative business model with advanced digital technology to conceive and develop an application capable of genuinely enhancing efficiency and cost reduction within the apparel and textile product sourcing industry. With immense pride, TradeAider has successfully brought the TradeAider App to fruition. This achievement owes itself to the founder's three decades of profound experience and expertise in global apparel and textile trade and manufacturing, a deep comprehension of industry requisites, and the dedicated efforts of our robust IT team. Substantial investments in time and finances have been dedicated to realizing this project.
● Introducing the Effortless and Effective TradeAider App: This user-friendly TradeAider App empowers buyers to conveniently monitor the entire production process with a quick glance and confirmations at the tap of their fingers, regardless of their location and time. This functionality proves especially valuable in the current post-pandemic era, characterized by restricted mobility.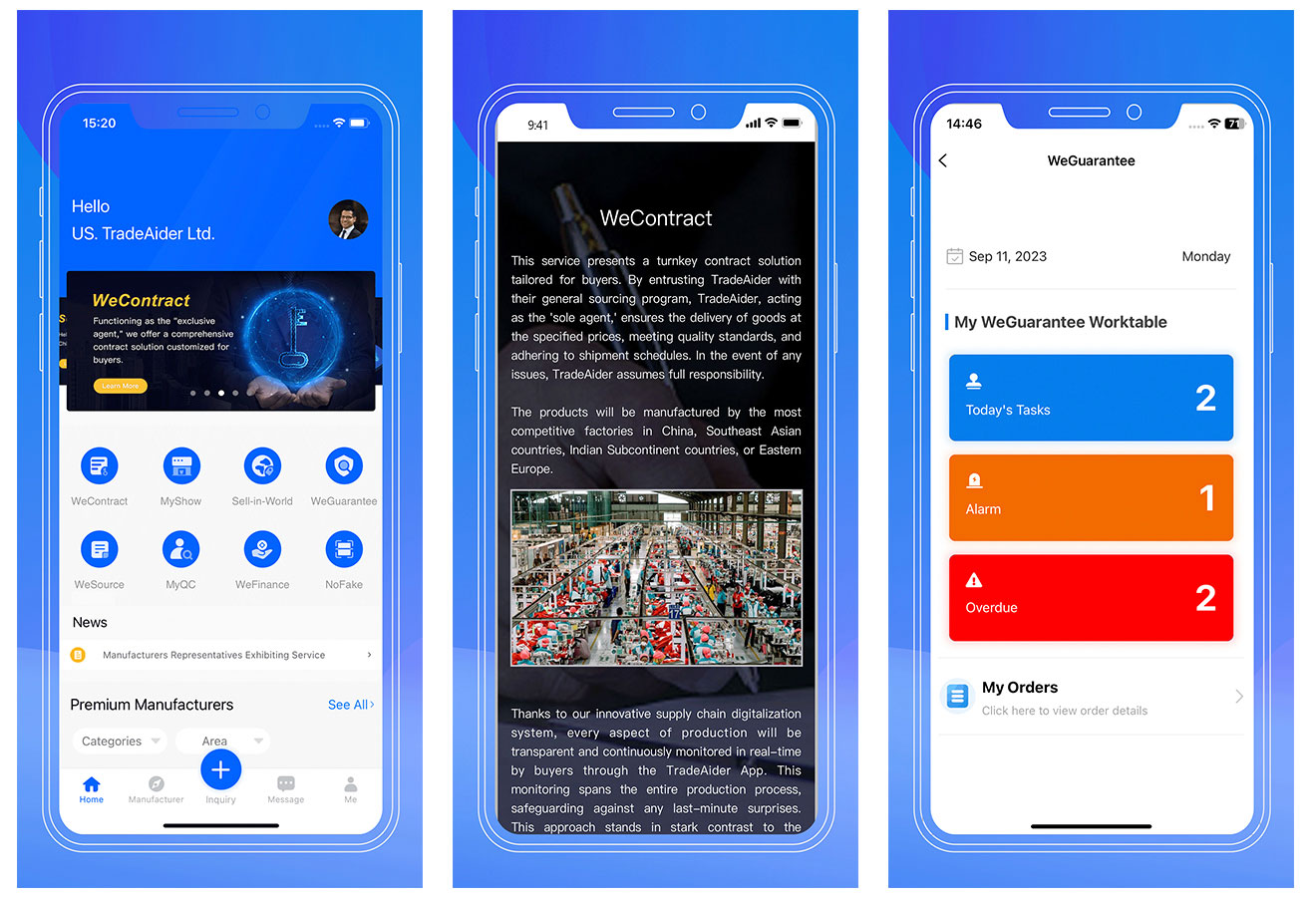 The app provides a completely transparent system for overseeing orders across various factories. This level of supervision is particularly advantageous in addressing buyer concerns related to delivery times and quality control. By proactively identifying, preventing, and promptly resolving issues during the production phase, through collaborative efforts between buyers, TradeAider, and the factories, any potential disruptions are mitigated. This comprehensive approach ensures that last-minute surprises related to delivery timelines and product quality are effectively eradicated.
● Comprehensive Order Management Process: TradeAider's skilled merchandisers meticulously display and summarize all order details. The production plan is collaboratively formulated and confirmed by manufacturers, TradeAider merchandisers, and ultimately, the buyers. The real-time production status at factories is diligently tracked, inspected, and documented by TradeAider Quality Control personnel present on-site. These updates are then seamlessly integrated into the TradeAider App by the merchandisers, offering a daily overview.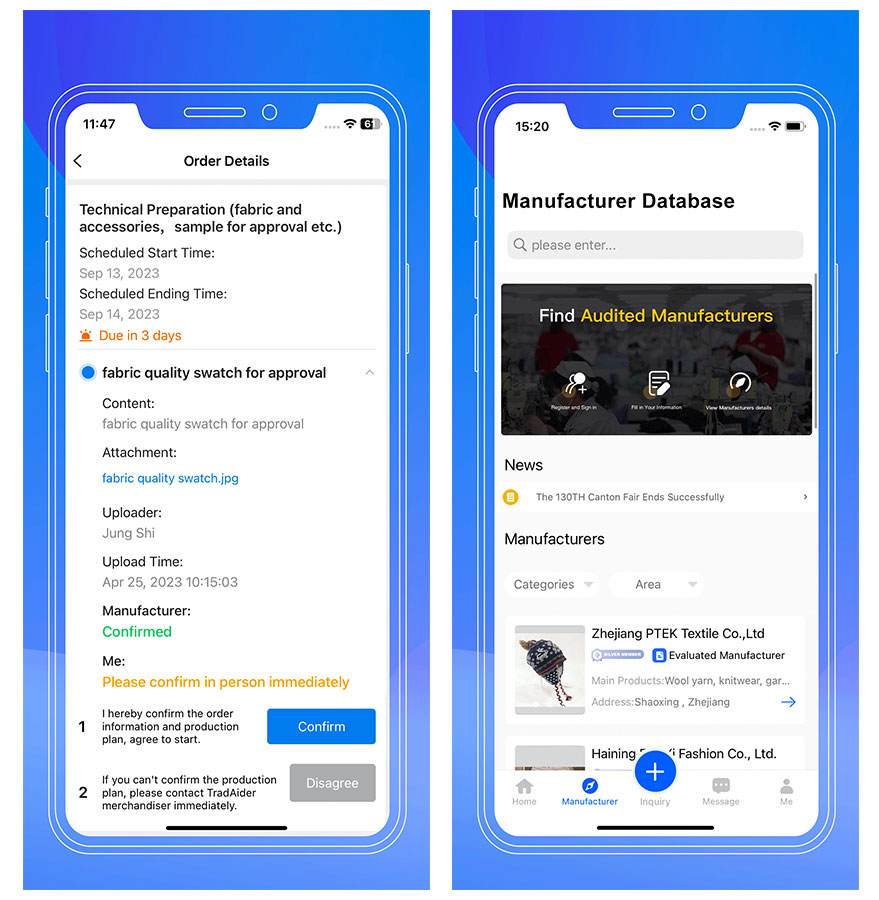 Innovative Visual Sampling Approach: The TradeAider App showcases sample progress through a cutting-edge 3D representation presented by fitting models. This dynamic presentation empowers buyers to review, provide feedback, and approve samples directly within the app interface. This innovation significantly expedites the traditional process of sending physical samples back and forth via couriers between buyers and suppliers, saving valuable time and resources.

● Collaborative Efficiency Through the TradeAider App: Buyers, manufacturers, and TradeAider merchandisers synergize on the TradeAider App in an exceptionally efficient, precise, intelligent, and transparent manner. This collaboration ensures the robust production of orders and preemptively prevents any potential quality issues. The TradeAider App streamlines processes, enabling buyers' merchandisers, designers, and quality assurance teams to easily execute their daily tasks. They simply follow the clear and accurate instructions provided on the TradeAider App's Work Table. Responding with "Yes" or "No" to requests outlined by TradeAider's merchandisers is all that's required. Subsequent tasks are then collaboratively managed by TradeAider's merchandisers, Quality Control personnel, and the manufacturers. This significantly reduces the workload for buyers and leads to substantial overhead cost savings.